"Giving what you have is not enough for what you can give / the real gift is to give yourself." This is what Almustafa says Prophet, from Kahlil Gibran.
Some people choose to do this by literally donating a kidney or lung. How then can we find the right words to describe this special gesture, whether we give or receive, when we are not a poet like Khalil Gibran? Writers and artists from the McConnell-University of Montreal Chair accompany these people in their creative process in researching and creating stories of giving and living in the context of care. This chair also offers other workshops where members of the student community, authors and medical staff can meet.
The selection of texts created at these workshops was first read publicly on 2 June at the symposium "Intranquille knowledge: knowledge, discourses and beliefs".
Creative workshops with transplant patients or living donors
Donors or recipients of lungs or kidneys in CHUM were led to express their feelings related to these very special moments. This transformational experience has brought together the members of the Bureau.
André Charbonneau, who was one of the first participants in these workshops, gave a touching report on the transplant donation to his wife in Transplant house. He recalled a few words he had heard before the gesture: "I, I am waiting for the result of a bone marrow transplant my sister gave me; recent results have not been encouraging. My daughter and I are in the intensive care unit for two days due to a lung transplant. "
Writing workshops with graduate students
Reading Ghizlane Cherfeddine
Acknowledgments: Amélie Philibert
As part of the competition student wellness, writing workshops were offered to the UdeM graduate student community in the fall of 2021 and fall of 2022, all disciplines combined.
Restrictions were presented at the first meeting. In the next part, the participants read their texts. "Discussing with the people present is important. A new space is created. Painful words can sometimes be collected there, "says Pascale Millot, a doctoral student in research and development at the university and the scientific and technical coordinator of the department.
During the symposium, she read a moving text by Ghizlane Cherfeddine, a master's degree in film studies. Bahia, which she wrote in the winter of 2011: "In my childhood, death was forever everywhere, but it was never close enough for me to understand, nor cruel enough for me to be afraid. Until then, death was an abstraction that I associated with those strangers who inhabited our collection of film photographs, as well as with all the absent, ubiquitous, carefully framed, swaying on the walls and sideboards of all the homes. the vitrified faces were dusted at the same time as the furniture and wood that carried them.
This workshop gave him the desire to continue his study of creative writing.
Creative workshops with nurses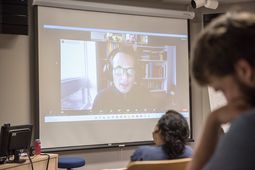 Reading by Guillaume Bollée
Acknowledgments: Amélie Philibert
Additional workshops have been set up for carers at risk of burnout, especially during a pandemic.
Guardian Guillaume Bollée wrote this in the story Feet:
She looked at her feet for a long time, then ran her finger gently over the winding white scar that adorned her shin. Peace returned to her. As if penetrated by unprecedented acumen, she could clearly hear the cries of birds and the faintest sounds of the forest, feel the warm wind on her cheeks, and feel her heartbeat and the blood circulating inside her. Suddenly, when she didn't expect it, she was enveloped in a hot, encouraging cloud like a tongue of fire. It was seven-ten when she knew she wouldn't die. She didn't know how or why yet, but she was sure: she would live.
Stories affected by the COVID-19 pandemic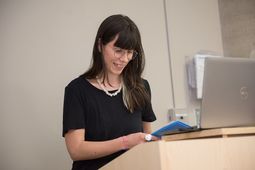 Reading by Clary Dupuis-Morency
Acknowledgments: Amélie Philibert
The President also made it possible to draw up a compendium Infected stories, published under the direction of Léonore Brassard, which brings together 23 writings on the current health crisis. "What does literature allow, which is not scientific discourse?" wondered the director of this collection, which will be published in the fall by XYZ.
Clara Dupuis-Morency, a writer and lecturer at the University of Montreal, read a dark story, "When there is less," where children describe the strange world they live in during a pandemic: "When there are fewer viruses, we can return to our game. Today we leave room. When there are fewer viruses, we will return to the world. "