The 2022 Global Connectivity Report, launched at the opening of the ITU World Telecommunication Development Conference in Kigali, Rwanda, states that while easy and affordable access to high-speed broadband is almost ubiquitous in most rich countries, large parts of humanity remain excluded. from the vast potential offered by the online experience, hampering economic development and deepening global inequalities.
While the number of Internet users has grown from a few million in the early 1990s to almost five billion today, 2.9 billion people – about one-third of humanity – remain completely disconnected and hundreds of millions more are struggling with expensive services and poor access. which do little materially improve their lives.
The report advocates placing "universal and meaningful connectivity" – defined as a secure, satisfying, enriching, productive and affordable online experience for all – at the heart of global development. It also assesses how close the world is to achieving this universal and meaningful connectivity, taking advantage of the 2030 connectivity goals recently published by the ITU and the Office of the UN Secretary-General's Special Envoy for Technology.
© UNICEF / Schermbrucke
The Covid-19 pandemic has dramatically increased Internet traffic as many activities have moved online.
Costs remain the main barrier
The cost of broadband subscriptions and digital devices remains a major barrier to connectivity, the report said. While internet access is becoming cheaper in richer countries, internet access remains disproportionately expensive in many low- and lower-middle-income countries.
And although broadband costs – especially mobile broadband – have fallen sharply over the last decade, most low- and middle-income economies are still below the global affordability target of 2% or less of gross national income per capita. Broadband Commission for Sustainable Development.
"Fair access to digital technologies is not just a moral responsibility, it is essential for global prosperity and sustainability," said ITU Secretary General Houlin Zhao. "We need to create the right conditions, including by promoting an investment-friendly environment, to break the cycles of exclusion and bring about a digital transformation for all."
While the sharp rise in demand for Covid-19 internet access has brought about 800 million more people online, it has also dramatically increased the costs of digital exclusion, as people who are unable to join are suddenly deprived of work, education and access to health counseling. . , financial services and much more.
"Universal and meaningful connectivity has become the global imperative of our decade," said Doreen Bogdan-Martin, ITU's director of telecommunications development, which drafted the report. "It's no longer just about connecting people – the catalytic role of connectivity will also be absolutely crucial to our success in achieving the UN's Sustainable Development Goals."
I'm still looking for the "missing link"
The "Missing Center" report, published in 1984 by the Independent Telecommunications World Development Commission set up by the ITU, identified a clear correlation between access to telecommunications and socio-economic development and called on all countries to make connectivity a priority.
Almost 40 years later, this "missing link" persists, but has turned into a few digital divisions:
Income distribution – the level of internet use in low-income countries (22%) remains well below that in high-income countries approaching universal use (91%)

Urban-rural gap – the proportion of internet users is twice as high in urban areas as in rural areas

Gender gap – 62% of men use the Internet worldwide, compared to 57% of women

Generational difference – in all regions, young people aged 15-24 are more avid internet users (72% online) than the rest of the population (57%)

The gap in education – in almost every country where data is available, the rate of internet use is higher for people with higher education – in many cases much higher.
The report notes that the biggest challenges when connecting unconnected are no longer related to network coverage, but rather to reception and use.
Barely 5% of the world's population is still physically out of reach of mobile broadband, the "coverage gap" is now overshadowed by a "usage gap": around 32% of people are within reach of mobile broadband and theoretically Connect could always remain offline due to disproportionate costs. insufficient access to the facility or insufficient awareness, skills or ability to find useful content.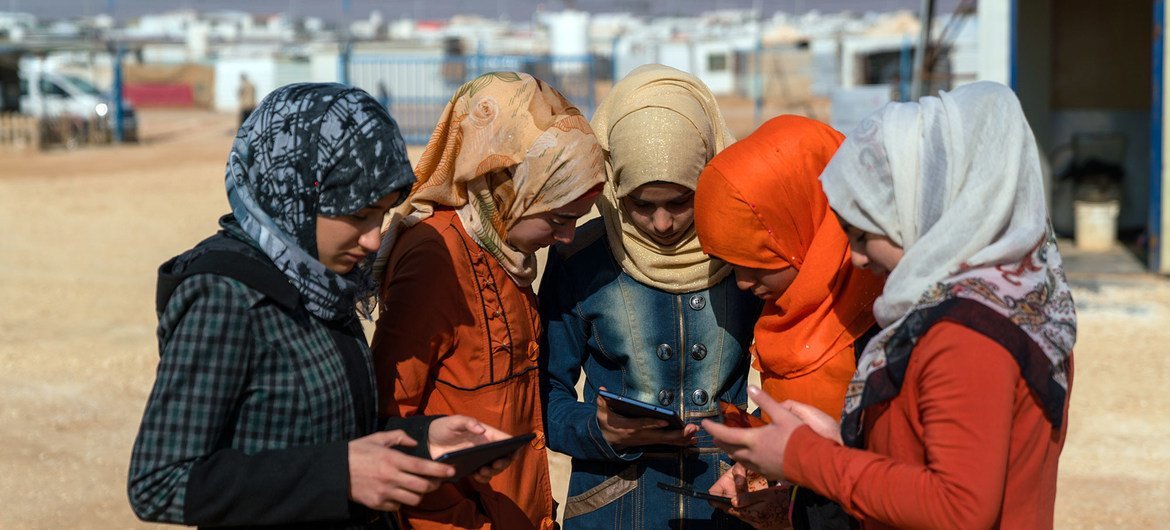 © UNICEF / UN051302 / Herwig
Things we share online can spread like wildfire, and even small sharing can have big consequences.
youth
While young people are enthusiastic users of online platforms and services in all parts of the world, the abysmal differences between and within countries limit the ability of many young people to use the online world to improve their lives.
Only 40% of school-age children have internet access at home, and many of them only have access to online services via a mobile phone with limited functionality for activities such as e-learning.
As the digital environment becomes more complex, children and young people also need more skills to critically understand the digital world in which they are increasingly immersed. Digital access and skills are key to improving the prospects of children and young people, and it is increasingly recognized that all stakeholders need to work together more effectively to protect young people from online risks.