>> Vietnam and Mozambique are strengthening relations between the parties
>> Vietnam and Mozambique want to strengthen their relations
Secretary-General of the Central Committee of the Communist Party of Vietnam Nguyen Phu Trong at the event on June 6.
Photo: VNA / CVN
Communist Party of Vietnam (CPV) leader Nguyên Phu Trong claimed this during his online talks with the chairman of the Mozambique Liberation Front (FRELIMO) and the president of the Republic of Mozambique, Filip Jacint Nyusi.
He said Vietnam was vigorously pursuing its foreign policy of diversifying and multilateralizing foreign relations and attaching importance to traditional cooperation and friendship with African nations.
He praised Mozambique's role, position and contribution to development in Africa, and said Vietnam welcomed the country's candidacy for a non-permanent seat on the UN Security Council for 2023-2024.
Secretary-General Nguyen Phu Trong also proposed measures to improve cooperation between the two parties and the countries in the coming period.
Filipe Jacinto Nyusi, for his part, thanked the Vietnamese side, the state and the people for their solidarity, friendship and support for African countries in general and Mozambique in particular during their past struggles for national liberation, as well as for the current cause of national construction and development.
He praised Vietnam for its achievements in national development and the improvement of its role, position and prestige on the international stage, and expressed its admiration for the Vietnamese side and the state for their policy and leadership over the difficulties of the COVID-19 pandemic, social welfare, economic recovery and international integration. .
Vietnam is a priority of Mozambique's foreign policy, the leader said, and expressed hope for stronger cooperation and friendship between the two countries and both sides.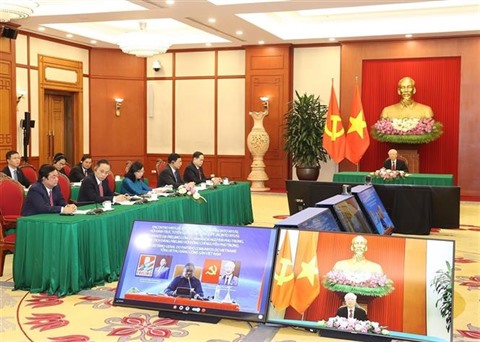 During an online interview on June 6 in Hanoi.
Photo: VNA / CVN
Strengthen cooperation between the two parties
The two leaders shared the view that Vietnam and Mozambique should optimize their strengths to support each other and strengthen and deepen bilateral relations.
They also agreed to strengthen cooperation between the two parties, to intensify meetings and exchanges through the channels of the party, the government and the National Assembly, as well as popular exchanges.
Both sides should use their potential and strengths to strengthen cooperation in politics and diplomacy, education, training and tourism, culture and people-to-people exchanges, while stepping up coordination in regional and international multilateral fora for the benefit of their people. and for peace, stability and prosperity.
On this occasion, Secretary – General Nguyên Phu Trong expressed the wish that 12e The FRELIMO Congress, scheduled for September, was a success and invited Philip Jacint Nyusi to visit Vietnam at its discretion.
President FRELIMO and the President of the Republic of Mozambique have kindly accepted the invitation and invited Secretary-General Nguyên Phu Trong to visit his country.




VNA / CVN